AmazonBasics 6-Piece Bakeware Set

AmazonBasics 6-Piece Bakeware set as a great assortment of popular essentials. It includes 2 round cake pans, one 10 x 13-inch cake pan and one 4.5 x 8-inch medium loaf pan, a 10 x 14 inches muffin pan (12 cups) and a 10 x 14.5-inch cookie sheet. You have many choices from cinnamon rolls to birthday cake to chocolate-chip cookies and many others. This is really an impressive bakeware set and can surely inspire and delight any baking enthusiast or novice as well. These bakeware products are made of heavy-weight carbon steel, has nonstick coating for great food release and they are oven-safe to 500° F and dishwasher safe for easy cleaning. Read more…
More details

| | | | | | | | |
| --- | --- | --- | --- | --- | --- | --- | --- |
| Size | 14.8 by 10.8 by 5.3 inches | Weight | 3.6 pounds | Model number | BK-D5045C | Sells at | Amazon.com |
The set includes:
2 round cake pans (9-inch)
Cake pan (10 x 13 inch)
Loaf pan (4.5 x 8 inches)
Muffin pan (10 x 14 inches, 12 cups)
Cookie sheet (10 x 4.5 inch)
---
Calphalon Nonstick Bakeware Set, 6-Pieces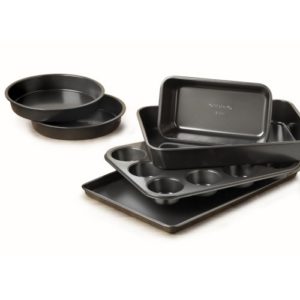 Calphalon Nonstick Bakeware Set can release even the stickiest baked goods quickly and easily so it is really very easy to bake a wide range of items. It has heavy-gauge steel core that won't warp and heat evenly without hot sports so your cookies and cakes come out of the oven perfectly browned. It has interlocking non-stick interior for long lasting performance. When it comes to releases, it releases 2x better than Calphalon Classic Bakeware. The non-stick finish looks really amazing in toffee color. Since it has light color so it is really very easy to prevent overbrowning. It includes 2 8-inch round cake pans, 9 x 13 inches cake pan, medium loaf pan, 12 cups muffin pan and 10 by 15 inches cookie sheet. Calphalon Nonstick Bakeware Set is dishwasher safe and protected with a 10 year warranty. Read more…
Dishwasher safe
Durable toffee-colored nonstick coating
Carbon steel for even heating
Reinforced rolled edges to prevent warping
10 years warranty
---
Pyrex Easy Grab 8-Piece Glass Bakeware and Food Storage Set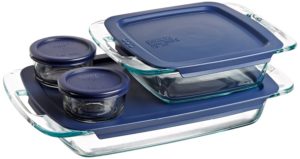 Pyrex Easy Grab 8-Piece Glass Bakeware and Food Storage Set has large handles for sure grip and it is easy to transport. This Pyrex bakeware set is designed keeping comfort, style and convenience in mind. It is also very easy to work with oven mitts. Pyrex Easy Grab 8-Piece Glass Bakeware and Food Storage Set has 1 3-quart oblong, 1 8-inch baking dish with plastic lid, 2 1-cup storage dishes with plastic lids. The bakeware set is microwave safe, lids are BPA free. It is also very easy to clean as it has Pyrex glass that is non-porous glass that won't absorb stains or odors. It is also freezer safe making perfect for your food storage requirement. Read more…
Amazon Basics 6-Piece Nonstick Oven Bakeware Baking Set



$21.68

@ Amazon.com (Save 17%)
Product Description
6-piece bakeware set includes a 9x5-inch loaf pan, 2 round 9-inch cake pans, a 12-cup muffin pan, a 13x9-inch roast pan, and a 13x9-inch baking sheet
Made of heavy-weight steel for thorough, even heating
Nonstick coating for effortless food release and easy cleaning
Oven-safe to 500 degrees F
Hand-wash only recommended
Product Details
| | |
| --- | --- |
| Brand: | Amazon Basics |
| Model #: | 99225 |
| Size: | 40.5x28.5x15cm |
| Color: | Gray |
| Dimensions: | 15.55 X 5.91 X 10.83 Inches (Length X Width X Height) |
| Price: | $21.68 (Save 17%) |
Amazon Basics 6-Piece Nonstick Oven Bakeware Baking Set
---
Pyrex Glass Mixing Bowl Set (3-Piece Set, Nesting, Microwave and Dishwasher Safe)



$16.99 ($5.66 / PIECE)

@ Amazon.com
Product Description
Mix, microwave and serve in a single bowl. Cleanup is a snap thanks to dishwasher safe glass that also nests neatly to save cabinet space
Includes (1) 1-Quart, (1) 1.5-Quart and (1) 2.5-Quart Glass Mixing Bowls
Durable high-quality tempered glass is dishwasher, freezer, microwave and preheated oven safe
Nonporous glass won't absorb food odors, flavors, or stains
2-year limited warranty on glass
Made in the USA
Product Details
| | |
| --- | --- |
| Brand: | Pyrex |
| Model #: | 1118441 |
| Size: | 3-Piece |
| Color: | Clear |
| Dimensions: | 11.25 X 10.88 X 4.5 Inches (Length X Width X Height) |
| Price: | $16.99 ($5.66 / PIECE) |
Pyrex Glass Mixing Bowl Set (3-Piece Set, Nesting, Microwave and Dishwasher Safe)
---
Amazon Basics Silicone, Non-Stick, Food Safe Baking Mat - Pack of 2



$12.44

@ Amazon.com
Product Description
2 non-stick silicone baking mats for easy and convenient baking
No need for oil, cooking sprays, or parchment paper
Oven-safe up to 480 degrees F
Fits half-sheet size pans; easy to clean
Each baking mat measures approximately 11.6x16.5 inches (LxW)
Product Details
| | |
| --- | --- |
| Brand: | Amazon Basics |
| Model #: | AOKE-1701 |
| Size: | 2-Pack |
| Color: | Standard |
| Dimensions: | 16.5 X 11.63 X 0 Inches (Length X Width X Height) |
| Price: | $12.44 |
Amazon Basics Silicone, Non-Stick, Food Safe Baking Mat - Pack of 2
---
Nordic Ware Natural Aluminum Commercial Baker's Half Sheet, 2 pack, 2-Pack, Silver



$20.99 ($10.50 / Count)

@ Amazon.com (Save 5%)
Product Description
Naturals commercial bakeware is made of pure aluminum which will never rust for a lifetime of durability. For sweet or savory baking; from cookies to sheet pan dinners, this is the pan you'll reach for
Foods bake and brown evenly due to aluminum's superior heat conductivity. Reinforced encapsulated steel rim prevents warping and adds strength
Compatible with parchment paper or silicone baking mats if desired. Easy clean up; hand wash recommended
Pan exterior dimensions 17.88 x 12.88 x 1.06 inches and interior dimensions 16.5 x 11.38 x 1 inches
Proudly made in the USA by Nordic Ware
Product Details
| | |
| --- | --- |
| Brand: | Nordic Ware |
| Model #: | 43105AMZM |
| Warranty: | lifetime limited warranty |
| Size: | 2-Pack |
| Color: | Silver |
| Dimensions: | 17.88 X 12.88 X 1.06 Inches (Length X Width X Height) |
| Price: | $20.99 ($10.50 / Count) (Save 5%) |
Nordic Ware Natural Aluminum Commercial Baker's Half Sheet, 2 pack, 2-Pack, Silver
---
Pyrex Basics Clear Oblong Glass Baking Dishes, 2 Piece Value Plus Pack Set



$24.89 ($12.44 / count)

@ Amazon.com
Product Description
A kitchen staple for more than 80 years
Pyrex bakeware is as relevant today as it was in 1915
Made of a durable, high temperature material
Model number : 1107101
Product Details
| | |
| --- | --- |
| Brand: | Pyrex |
| Model #: | KC54185 |
| Size: | 1 |
| Color: | Clear |
| Dimensions: | 15.75 X 9.5 X 2.5 Inches (Length X Width X Height) |
| Price: | $24.89 ($12.44 / count) |
Pyrex Basics Clear Oblong Glass Baking Dishes, 2 Piece Value Plus Pack Set
---
Calphalon Nonstick Bakeware, 6 Piece, Black



$38.89

@ Amazon.com (Save 14%)
Product Description
Heavy-gauge steel core won't warp and heats evenly without hot spots so your cookies and cakes come out of the oven perfectly and evenly browned.
The interior of each piece has interlocking non-stick layers that are designed to deliver long-lasting, high-performance release. Releases up to 2X better than Calphalon Classic Bakeware.
Durable nonstick easily releases baked goods and cleans up quickly
Oven safe to 450 degrees
Dishwasher-safe and protected by a full 10-year warranty.
Set Includes: Two 8-in. Round Cake Pans, One Medium Loaf Pan, One 9x13-in. Cake Pan, One 12-Cup Muffin Pan, One 10x15-in. Baking Sheet
Product Details
| | |
| --- | --- |
| Brand: | Calphalon |
| Model #: | IB0601A |
| Warranty: | Full 10 year warranty |
| Size: | 6-Piece Set |
| Color: | Black |
| Dimensions: | 15.75 X 4.63 X 10.75 Inches (Length X Width X Height) |
| Price: | $38.89 (Save 14%) |
Calphalon Nonstick Bakeware, 6 Piece, Black
---
8-Piece Deep Glass Baking Dish Set with Plastic lids,Rectangular Glass Bakeware Set with BPA Free Lids, Baking Pans for Lasagna, Leftovers, Cooking, Kitchen, Freezer-to-Oven and Dishwasher, Gray



$41.99

@ Amazon.com
Product Description
HIGH QUALITY LARGE FOOD GRADE BAKING PAN SET: Our baking dishes are made of borosilicate glass, can be used in microwave, oven, freezer and dishwasher, goes straight from the refrigerator to the microwave or oven to the table without the risk of cracking or shattering. Cadmium and Lead free.
TIGHT FITTING LIDS: 8-piece baking dishes set includes 4 baking dishes and 4 gray BPA-free plastic tight fitting lids, which are designed to keep your food fresher longer. Made with a special non-slip design, you can stack these 4 containers with lids on top of each other in your fridge or freezer for space saving storage. Also they are sloshproof to prevent spilling while storing or on the go. The ideal set for baking, serving and storing food.
ELEGANT DESIGN & CONVENIENT HANDLES: The clear glass baking pan makes a nice, attractive presentation for enjoyable baking time, a charming decoration in your dining table and kitchen. It also lets you monitor the baking process, serve your meals in a stylish and elegant fashion and easily identify leftovers. The edge of the bakeware is round and smooth, with a widened, thickened, and anti-scalding handle design, providing a secure grip while taking to and from the oven.
PERFECT SIZE & VERSATILE USE: This bakeware set includes 4 pieces bakeware of difference dimensions ( includes the ears' size): 1Quart (10 x 5.9 x 1.8-inch), 1.7Quart (11.6 x 6.7 x 2.1-inch), 2.3Quart (13.6 x 8.1 x 2.1-inch), and 3.2Quart (15.5 x 9.3 x 2.1-inch). Perfect for baking desserts, casseroles, stews, lasagna, spaghetti, brownies,chicken, meat, beef, fish, veggies, and all your favorite delicacies, as a serving dish for added convenience and reheating leftovers and etc.
100% CUSTOMER SATISFACTION: If you receive cracked products or you are not 100% satisfied with our products, please feel free to contact our customer service. We will provide the best solution for you within 24 hours.
Product Details
| | |
| --- | --- |
| Brand: | M MCIRCO |
| Color: | Gray |
| Price: | $41.99 |
8-Piece Deep Glass Baking Dish Set with Plastic lids,Rectangular Glass Bakeware Set with BPA Free Lids, Baking Pans for Lasagna, Leftovers, Cooking, Kitchen, Freezer-to-Oven and Dishwasher, Gray
---
Rachael Ray Cucina Nonstick Bakeware Set Baking Cookie Sheets Cake Muffin Bread Pan, 10 Piece, Latte Brown with Cranberry Red Grips



$99.95

@ Amazon.com
Product Description
SET INCLUDES: Two 10-inch x 15-inch cookie pans, Two 9-inch round cake pans, 9-inch square cake pan, 2 loaf pans, 9-inch x 13-inch rectangular cake pan with lid, 12-cup muffin and cupcake pan
EVERYDAY DURABILITY: This Rachael Ray nonstick bakeware set features heavy gauge steel construction with rolled-rim bake pan edges designed for easy, everyday use
LONG-LASTING NONSTICK: The baking pans feature long-lasting, latte-colored nonstick inside and out to provide excellent food release with quick cleanup
COMFORT AND CONTROL: Silicone grips on the bakeware pan handles offer plenty of solid, comfortable grasp, even with potholders
DESIGNED FOR PERFORMANCE: Oven safe to 450 degrees F, the nonstick bakeware set includes all the essential bake pan shapes for everything from cake making to cookie making to roasting and more
VERSATILE BAKE PANS: Cake pan with lid is ideal for bringing goodies on the go, cookie pans work great for sheet pan dinners, and round cake pans are perfect for roasting, too
Product Details
| | |
| --- | --- |
| Brand: | Rachael Ray |
| Model #: | 52410 |
| Warranty: | Quality assurance guarantee |
| Size: | 10 Piece |
| Color: | Latte Brown with Cranberry Red Grips |
| Dimensions: | 25 X 12.4 X 6.6 Inches (Length X Width X Height) |
| Price: | $99.95 |
Rachael Ray Cucina Nonstick Bakeware Set Baking Cookie Sheets Cake Muffin Bread Pan, 10 Piece, Latte Brown with Cranberry Red Grips
---
Pyrex Deep Baking Dish Set (6-Piece, BPA-Free Lids)



$42.99

@ Amazon.com
Product Description
The Pyrex deeper hold everything baking dish collection includes: one (1) 13x9 inch glass baking dish with plastic lid, One (1) 8x8 inch glass baking dish with plastic lid, and one (1) 7x11 inch glass baking dish with plastic lid
At up to 50 percent deeper than the Pyrex basics dishes you know and love, there's more room to get creative and try even more yummy recipes
Deeper size stops spillover and keeps your oven clean
Perfect for parties and large quantity servings
Made from pure Pyrex glass which is microwave, dishwasher, preheated oven, and Freezer safe; lids are BPA free, and top rack dishwasher, and microwave safe
Non porous glass won't absorb food odors, flavors, or stains
Product Details
| | |
| --- | --- |
| Brand: | Pyrex |
| Model #: | 1135014 |
| Size: | 6 Pieces |
| Color: | Clear |
| Dimensions: | 17.1259842345 X 8.49999999133 X 11.25196849246 Inches (Length X Width X Height) |
| Price: | $42.99 |
Pyrex Deep Baking Dish Set (6-Piece, BPA-Free Lids)
---
Calphalon Simply Pots and Pans Set, 10 Piece Cookware Set, Nonstick



$199.99

@ Amazon.com (Save 20%)
Product Description
Included with the set: 8" fry pan, 10"" fry pan, 1-quart sauce pan with cover, 2-quart saucepan with cover, 3-quart saute pan with cover, 6-quart stockpot with cover
Hard-anodized aluminum cookware is durable and resists corrosion and warping
Durable, 2-layer nonstick interior prevents food from sticking and makes cleanup effortless
Long silicone handles stay cool on the stovetop
Oven-safe up to 400 degrees F, so you can easily go from stovetop to oven
Tempered glass lids
Product Details
| | |
| --- | --- |
| Brand: | Calphalon |
| Model #: | SA10H |
| Warranty: | 10 Year Warranty |
| Size: | 10-Piece |
| Color: | Black |
| Dimensions: | 21.13 X 14.25 X 10.25 Inches (Length X Width X Height) |
| Price: | $199.99 (Save 20%) |
Calphalon Simply Pots and Pans Set, 10 Piece Cookware Set, Nonstick
---