In this Nostalgia BST3RR Review, I will try to cover the main things of this breakfast station. Thus, it is not only a review page, but also a long description page.
My main aim is to show you the truth, which is being discussed on many websites that include forums, blogs, social networking websites and shopping websites like Amazon.
The 3-in-1 breakfast station combines a toaster, a coffee maker and a griddle. So, it becomes a multi-function appliance to prepare morning breakfast. On the other hand, Nostalgia is very famous for making many retro style kitchen appliance. This is also a retro style breakfast station that looks stylish.
Versatile toaster – this breakfast appliance has a multi-function toaster that can accommodate 4 slices of bread and a 7-inch pizza. You can use this toaster for cookies, casseroles and other meals also.
Coffeemaker – the unit as a 3-cup coffeemaker, which means it can make coffee for your morning breakfast too. This coffee maker features a glass carafe, a coffee scoop and a reusable filter.
Griddle – it has a non-stick griddle that is a family size griddle. You can use this large-size griddle for preparing omelets, pancakes, bacon and many other recipes.
Compact – this is a compact unit because it is a 3-in-1 combo that includes a toaster, coffeemaker and a large-size griddle. Of course, it can be a great space saver. You can use it in small kitchens, dorms, RVs and apartments.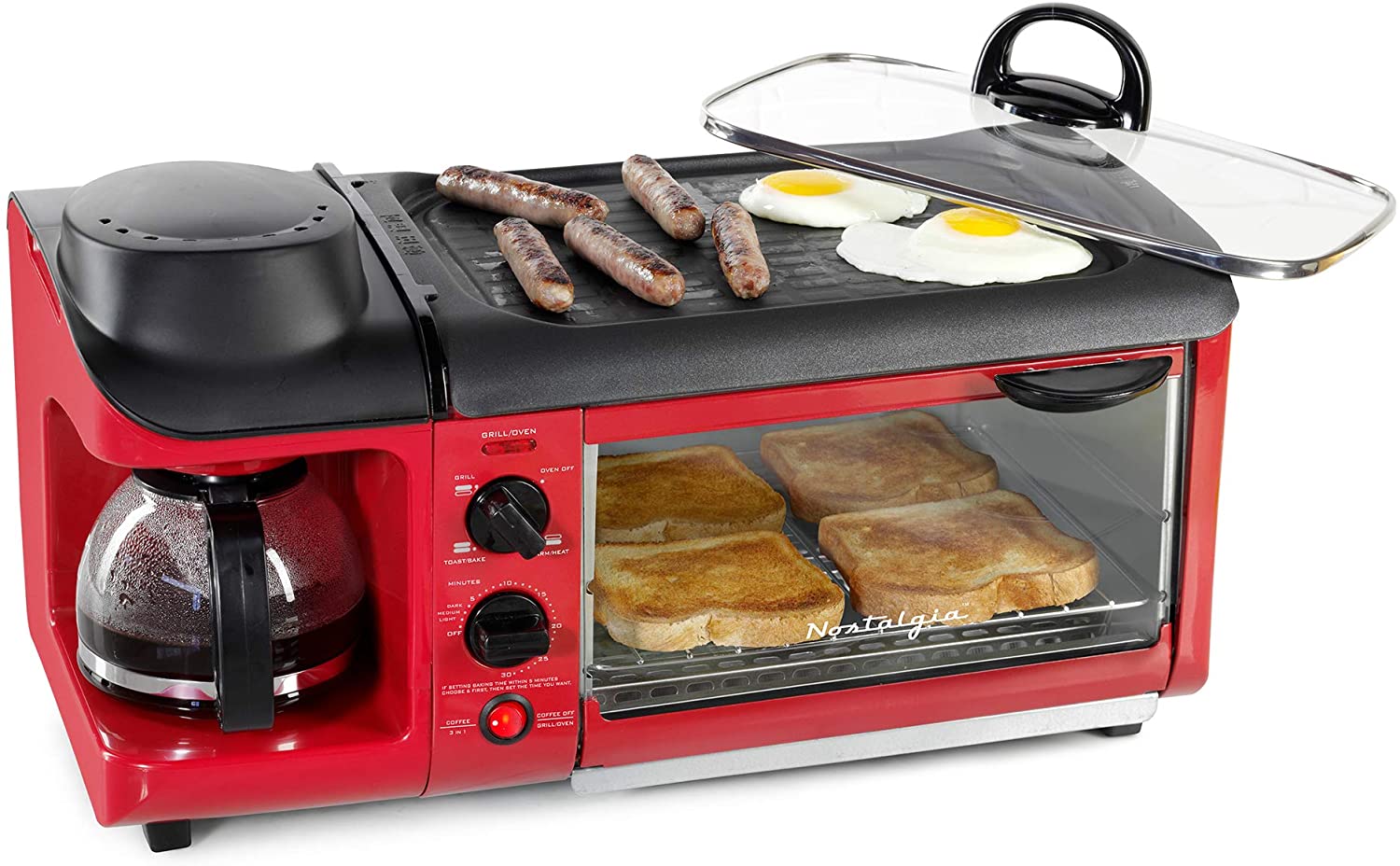 FAQs – Nostalgia BST3RR Review
What size filter do I need to use for the coffeemaker?
Please look for a coffee filter that is used in a 4-cup coffeemaker. Some users say that a regular size filter is the best fit for this unit.
Can I get a handle for the oven door?
Please check the shipping box; it contains all the required items. If it does not have one, please contact the customer service team.
Where can I get temperature information on this unit?
You need to check the manual if you have received one. However, according to some users it has 350° temperature, which is the standard temperature for such appliances.
Where can I buy a part of this breakfast station, if I need to buy one?
You will not be able to buy them. However, please search Amazon or contact the manufacturer.
How much watt does this unit deliver?
According to the manufacture, it has approx. 800 watts.
Can I use this breakfast station in a car?
No, you will not be able to use it in a car. However, the product description says that this is a good product to use in an RV.
Perfect for Small Kitchens, Dorms and RVs
Since the 3-in-1 unit has a small size, so it is perfect for students, RVs, small kitchens and travelers. The combo appliance is very easy to use. It features a timer that is very accurate.
The coffeemaker delivers an average performance. Well, you will not get difficulties to clean the coffeemaker but you need to be a little careful at the time of removing the hot coffee. It is a little tighter than the large coffeemakers.
The toaster is easy to handle, easy to clean. The tray is on the appropriate position that is easy to remove without tilting. So, it is very easy to clean.
Caution – the red color unit does not match a red color microwave from Nostalgia. So, in case, you need to match the appliance color, you need a larger toaster from Nostalgia. Overall, this combo appliance is sturdy and delivers good cooking performance.
User satisfaction – on Amazon, you can find countless happy customers of this 3-in-1 unit. The unit is made to prepare breakfast without too much effort. So, many customers love it. They also love the retro design of this unit. The red color combo unit matches most of the modern kitchens.
Pros
Perfect for small kitchens, RVs and apartments
Retro style
Low price
Countless happy users
3-in-1 combo: toaster, coffeemaker and griddle
Sturdy and easy to clean
Comes from trusted Nostalgia brand
Easy to use, easy to understand and easy to prepare breakfast
Cons
The griddle takes longer to heat up.
It is a little difficult to use both griddle and toaster at the same time.
The pros and cons are a part of Nostalgia BST3RR Review. In case, you want to buy this combo unit, please read the pros and cons listed here. I am sure they will give an overall picture of this product. From the list of pros, I can say that this is an average performance unit, which looks stylish and can be used in a small kitchen. Since this is a 3-in-1 combo, so it is capable to save some space in your kitchen.
Conclusion – Nostalgia BST3RR Review on Toaster, Griddle & Coffeemaker
In Nostalgia BST3RR Review, I tried to mention features, FAQs, pros, cons and users' reviews. According to my research, it is a low price combo station that is perfect for preparing a complete breakfast. It is perfect for students, small kitchens, travelers and many others.
In fact, many customers appreciated the retro style of this Nostalgia toaster combo. It has three appliances in one such as toaster, griddle and coffeemaker. Which means, you do not have to look anywhere else to prepare your meals. Just one unit is enough to prepare your breakfast.