We all fear costly repairs. It is the reason you need to take care of your dishwasher. Dishwashers need a thorough cleaning on a daily and weekly basis. Though, we all have a theory that our dishwashers should be cleaning themselves, it may not be true. The dishwasher will leave some bits of food over time. It will also leave some traces of grease, undissolved detergents, and many other water minerals.
You will also not like the unpleasant odor and the gunk look that will results after long time use without cleaning. You need to do a dishwasher cleanup to complete its job correctly thoroughly. Here are five simple steps that will help you clean your dishwasher.
Remove bits of food daily
You need to remove bits or rather the leftovers of meals after every dish-washing cycle. Make it a habit to pull out the bottom rack so that you remove all the leftover foods. You can use a paper towel so that it gets rid of future odors and dirt buildup.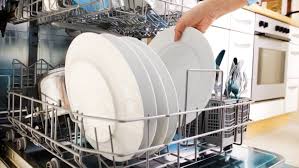 Keep checking the door grime every week
The interior surface of your dishwasher is critical.
Some residues and spots will always splash on the interior surface. Use a damp sponge or sponge to clean the interior surface of the door edges, the dishwasher controls, or even the handles.
Clean the filter every week
The screen is an integral part of the dishwasher. If the filter is dirty, then be sure that all other utensils that pass through it are dirty. Unlock and remove the screen at the bottom of the spray arm. You then rinse it under running water. You can use a brush to scrub the mesh so that you get rid of all the particles that stuck into the crevices. For those who are not sure o were the filter is, you should always check in the manufacturer's manual.
Deep cleaning
Yes, please decide to get down and do deep cleaning! Exhaust all parts, don't leave any part. You can use a dishwasher or even take a DIY route using grime fighting white vinegar mixture. The deep cleaning will get rid of all the dirt, mineral buildup, and all other detergent residues.
For the homemade options, you can use distilled white vinegar with a detergent. You can also use the cleaning tablets, though its advisable t always read the instructions since they have a different cycle.
You can also polish the stainless steel!
Once the cleaning that needs the detergents is complete, you can now think of cleaning the surface to remove the fingerprints. Use a stainless steel cleaner like a GH seal star. It will shine up your dishwasher door.
Summary
You need to do a thorough cleaning of a dishwasher. Follow these simple steps, and you will always be happy with your dishwasher.  It is expensive to do repairs, that's why it is better to do proper maintenance.
[home]
Visited 1 times, 1 visit(s) today