A smelly microwave is what we all want to remove! Those little leftovers or even the popcorns that burn on the surface will make your sparkling microwave lose that shiny look; instead it will turn into a grimy, smelly mess! You need regular maintenance to keep your microwave sparkling.
The microwave is not like any other kind of appliances. You can do a thorough cleaning using everyday supplies. The most typical supplies that you can use include dish soap, baking soda, and vinegar. When you have the right cleaning supplies, you are ready for a quick microwave cleaning. Here is an expert procedure that will deliver a sparkling microwave.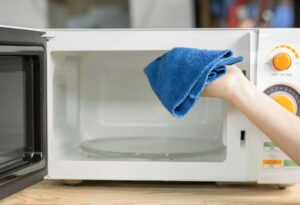 Cleaning a microwave from inside
When splatters and smells overwhelm your microwave, it will look a bit rough. You need to clean it from the inside. Here are straightforward steps that will deliver a smart microwave interior cleaning
Use a cup of water, lemon, lime, and orange slices. Combine them and mix them in one bowl.
Place the combination on a microwave, after which you turn it on. Leave it until the mixture steams. Allow it to cool for five minutes after which
you remove the bowl and wipe the inside of your microwave using a clean sponge
Cleaning a greasy microwave doors
 Now once the inside of your microwave is clean, you will want to get rid of smudges and grease from the microwave's exterior.
Start with the greasy window. Use a mixture of vinegar and water to clean it after which you rinse and wipe it dry.
Ensure that you properly clean the rubber gasket around the door using a sponge. You can use water and baking soda for thorough cleaning.
If there is a massive grease build-up, you ensure that you wipe your microwave door using an all-purpose grease-cutting cleaner, the sudsy dish soap, and water. You can apply the filter with a sponge so that the cleaner won't get into the vent holes.
Getting rid of burnt smells and odors in a microwave
Your microwave will leave some stench after using it! Consuming some popcorns will leave the scent. You, therefore, need to find ways of getting rid of it right away.
In case the odor is very light, you can air it out by ensuring that the door is open. You can even place a bottle of baking soda inside so that all smells are adequately absorbed.
Strong odors will need an agent that such as a gel. A gel will absorb odors. Place the gel inside so that it absorbs strong smells.
How about the stuck-on food on a microwave?
Stuck on food is the last part that you should check. You can do this using your hand. If the food is holding to the tunable, you can place it in a dishwasher. Here the manufacturer's details on how to clean it are vital.
 Summary
Follow these steps, and it will be great for you! You will always be happy with your clean microwave!