Are you looking for smart ways to clean your stainless steel fridge? Stick to this step by step guide that will guide on steps to follow for cleaning your stainless steel fridge. You need to get back that pristine gleam that existed when your stainless steel fridge was new. The grubby fingers are one of the reasons why your stainless fridge losses its bright shine after a short while.
Let's consider these tips that will help you in cleaning a stainless steel fridge. Notably, the stainless steel surface of a refrigerator is surprisingly easy to clean. You will only need to wipe away the streaks or smudges with a specialty cleaner. You can use an elbow grease so that it gets rid of any residue or fingerprints.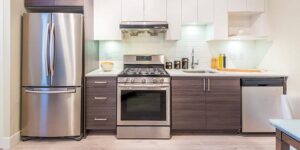 All you will need includes
A dish soap: you will mix one teaspoon of dish detergent and 1 quart of hot tap water. You will then use a microfiber cloth where you will rub the detergent solution on the marks on small sections. Now rinse it with clean hot water and then immediately dry it with a clean cloth.
The mineral oil: you can now apply a light coating of mineral oil. It's advisable to stay away from food-based crudes such as the vegetable and the olive oil. These oils will turn stale with time.
You can also spray dry ammonia and vinegar free window cleaner, after which you wipe the surface clean.
You can scrub the stainless steel fridge in a circular motion. It will help in hiding the scratches and giving them a smooth appearance. Always wipe the appliances in the direction of the metal grains to minimize streaks.
Let's see how you can get rid of streaks in a stainless steel fridge.
It is always advisable to wipe the cleaner in the direction of the metal grain regardless of the type of stainless steel that you are using. You should note that streaks are the results of wiping against the grain or in a circular motion. In case you want to get that extra shine, you can use enough cleaner to dissolve grease effectively. You will then use a microfiber cloth to buff it!
How to make it shine again?
A bar of dish soap or even mineral oil can indeed remove pesky marks and smudges. But you will want to get back that naturally shining. You will, therefore, need cleaners that are formulated especially for stainless steel. Always look for a filter with a protectant so that it repels soil and fingerprints.
 Summary
Always keep your stainless steel fridge shining by following all the critical steps for a smart refrigerator! It will be great to have an intelligent appliance that has a glittering look all the time. It's not hard to achieve that, only stick to the rules.