Here is a guide that will take you through all the vital steps on cleaning an electric stove top! We have many types of the electric stove tops. The article will deliberate on ways of cleaning an electric stove top.
What you need!
Before any cleaning starts, ensure that you have the following.
A scraper
A soft cloth
Warm soapy water
A sponge
A glass cooktop cleaner
Paper towels
All the requirements are the basics that will help you deliver a great job. Now let us narrow down to all the tips that will help you do a good job.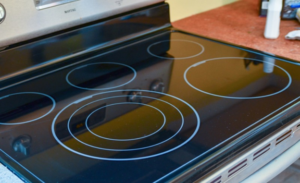 Procedure
Start with scrubbing off the debris. You will use warm soapy water and sponge so that you easily remove the debris. Of course, you will start this when you are sure that your stove is fully cool. Once the stove is cool, start by wiping down the entire stove using a sponge and warm soapy water. You will then gently scrub off the visible grime and any loose pieces of food.
After wiping off the debris, you will the dry your electric stove top using a clean towel. The towel will remove the soapy and wet feel.
It's now time to get into details and you will want to apply the glass cooktop cleaner so that you initiate scrubbing with a sponge. You can use the harsh side of the sponge and now make circular motions until the entire stovetop is fully covered with a cleanser. Ensure that you proceed with scrubbing until you feel the areas that are rougher than others. This is a point where the grease built up is!
Now get your scrapper to remove the grease built-up. Gently scrap all the areas that feels rough to touch. Scrap over the rough to touch parts over and over again using a cleanser and a sponge until you notice a difference.
Now remove the cleanser from the stovetop. You can either use a paper towel or even a soft cloth so that you gently buff off the cleanser. Repeat this process many times until your electric glass stove top shines.
The five simple steps will deliver a very shiny stove top! Always follow the steps faithfully and you will notice a great difference. The process also needs to be on a regular basis. Don't wait until the built up is so strong. It will be harder cleaning it when there is a stronger built up of grease.
Summary
Clean your electric stove top using this smart tips that are easy to follow. Stick to them and you will find a smart way to deliver it.  Stick to it and you will always like the smart results that it delivers to you.