Nostalgia is a popular name that makes uniquely designed kitchen appliances. From Nostalgia, retro style microwaves are very famous.
If you like a retro design microwave, please check Nostalgia RMO4AQ microwave oven. This is an 800W countertop microwave that features 12 automatic cooking functions.
The Nostalgia countertop microwave is full of advanced features to facilitate easy cooking. Yes, it is easy to cook, easy to clean and easy to understand. It has an easy clean interior, digital clock, pre-programmed menus and 0.9 cu ft cooking space.
For the style and color preference, the 0.9 cubic foot microwave is selectable from five different colors. These colors are Aqua, Ivory, Jet Black, Metallic Retro Red and Seafoam Green.
Please keep in mind that you would get a little price difference depending on the specific color you choose. However, this Nostalgia RMO4AQ review is for the Aqua color microwave.
Features of Retro Style Microwave by Nostalgia
Easy cooking – since RMO4AQ has 12 cooking settings, so you have good cooking flexibility. The microwave has preprogrammed options to cook popular foods such as pizza, popcorn, potatoes, vegetables and more. Superior cooking is performed by the microwave because it has good management for heating frequently cooked foods.
800W microwave power – this retro large microwave has 800-watt cooking power that delivers an acceptable performance. It has sufficient cooking power to cook foods instantly and evenly.
0.9 cubic foot interior – Nostalgia RMO4AQ has specious interior of 0.9 cu. ft. capacity. Such a large interior is good for fitting most cooking plates, dinner plates, bowls and other cooking items. With this 0.9 cu. ft. interior, the 800 watts microwave becomes a family size unit.
Digital display – the retro style microwave features a digital display to illuminate cooking settings. This way, you won't have any problem to operate the unit.
Evenly cooked food – the Nostalgia countertop microwave features revolving glass turntable. With this feature, you get evenly cooked food all the times.
Retro design – some external components in Nostalgia Microwave Oven give a retro style to this unit. It has a door handle with sleek chrome profile, uniquely designed control. All these external parts add a modern flair to this unit.
Easy operation dial – with a simple dial, you can easily switch from one function to others. It has an easy turn and push dial.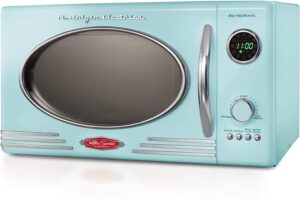 FAQs on Nostalgia RMO4AQ 0.9 Cubic Foot Microwave Oven, Easy Clean Interior, Aqua
What can I do to set minutes because it doesn't have a numeric pad?
This Nostalgia 0.9 cu. ft. microwave has a minute knob that you can use for setting the minutes. For help, please refer to the manual. For minute settings, you can find the minute knob above the power button.
What is the external measurement of this Nostalgia 800W microwave?
The dimensions are 18.5 inches width, 11 inches height and 13.25 inches depth. This is a full measurement including the door handle and back of the unit.
Is it easy or complicated to use?
In fact, Nostalgia RMO4AQ is very easy to use. After configuring the microwave for one minute or more, then keep pressing for more. You can also choose a specific time using the minute knob.
Is this really a good retro style microwave? Do you like it?
Yes, you can see the unit has countless customers on Amazon. They love it. It is easy to use, has specious interior and a good look to complement your modern kitchen. According to Nostalgia RMO4AQ reviews, many people have been using it for years.
Can I mount this unit above a stove?
No, since it is a countertop microwave so it would be good if you place it on a counter.
My Nostalgia retro microwave doesn't have a cooking light, is it normal?
No, it is not normal. The microwave comes with a cooking light that switches on when cooking something or the door is opened. Please connect with the customer service time for further assistance.
Existing User Reviews, Pros and Cons on Nostalgia RMO4AQ Countertop Microwave
A User Complained on Amazon Because This Nostalgia RMO4AQ Shuts Down After 6 Minutes
This user has given it just a one-star rating. In fact, the user loves the beautiful look of this 800W microwave but it disappointed the user with poor performance.
In fact, when he purchased this unit, he also purchased matching color coffee pot and toaster. Which means he was very existed with the microwave look.
According to his problem, when the microwave starts heating anything more than six minutes, it shuts down automatically. According to him, there is no meaning of using the defrosting feature because the unit stops working before sufficient heating.
To restart this Nostalgia microwave, he has to wait for at least 10 minutes. Which means when the microwave cools down then he is able to start it again. Thus, there is no use of this microwave if it shuts down after six minutes. It is worthless.
Well, one can argue that why he needs to heat anything for six minutes. Actually, he likes to eat very hot food, and he didn't get such issues with a cheap microwave he owned.
Finally, the user is not happy with the performance of this 0.9 cu. ft. microwave.
Looks Beautiful but Doesn't Perform Well
A reviewer on Amazon has given a 2-star rating to Nostalgia RMO4AQ 0.9 Cu. Ft. Microwave. According to this user, the unit has low cooking power so it takes long time to cook food. This is a low quality unit.
At first, the user was very impressed with the look of this 800-watt microwave. Therefore, he also bought a matching toaster.
Sadly, it stopped working after few uses. Actually, the center heating element stopped working. So, the user is very disappointed with this flimsy microwave oven because he had remodeled his kitchen based on the look of this retro microwave.
Nostalgia RMO4AQ Microwave Is Adorable but Not Sturdy!
A customer has given it a one-star rating. He said that the microwave gets many compliments. However, after 15 days use, the turntable stopped working.
He wished that this Nostalgia microwave should have worked for at least one year but it stopped working in 15 days. Then it would have been worth it. Therefore, just 15 days performance is not reasonable, waste of the money.
The Best Nostalgia Brand Microwave That Worked for the Purpose
A customer wrote in his review that he used two other units before the purchase of Nostalgia RMO4AQ. He says that this Nostalgia microwave is the winner because it delivers good performance.
Actually, he liked many features in this microwave. He loved the knob for minute settings. It doesn't give too many annoying beeps. However, his previous microwave was too noisy. Such things are not available with this unit.
Additionally, he is impressed with the location of popular buttons such as defrost, dish, potato and beverage. The unit heats food evenly.
Actually, his parents also have the same microwave in black color. They like the microwave a lot. In addition, the cuteness and subtle colors of this microwave are very appealing. According to him, the Aqua color unit looks very stylish.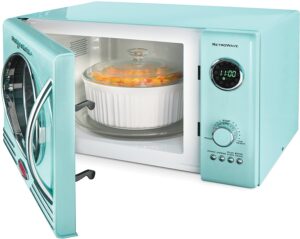 Pros
Lovely look, super cute
The stylish microwave matches most modern kitchens.
Unique design
Easy to use dial and push start
Spacious interior but small footprint
Features a knob for the time selection
Cons
A little noisy
For cooking, it takes a little longer than usual.
Less cooking power
Nostalgia RMO4AQ microwave is a popular unit because it is uniquely designed. People love the cuteness and retry design of this microwave. Based on pros, cons and various reviews, the Nostalgia 0.9 cu. ft. microwave has both pros and cons. However, it has pros more than the cons, so it is recommendable to buy.
Conclusion – Nostalgia Countertop 800-Watt Microwave Oven
To sum up, Nostalgia RMO4AQ 0.9 cu. ft. retro style microwave looks impressive from outside. This is undoubtedly a cute unit, so countless people have liked it and purchased it.
According to reviews written by the existing users of this Nostalgia microwave, it delivers average cooking performance. Many reviewers complemented its cuteness, unique design, retro style and the time selection knob.
Since, this 800W microwave is fairly priced, I would recommend buying. However, I would like you to read reviews on Amazon and other selling platforms before you buy it.
In fact, the 0.9 cu. ft. retro microwave has attracted countless buyers because of its unique design. However, I admit that it is a little low on the performance.
Visited 1 times, 1 visit(s) today