Installing an electric stove burner in your house is a great achievement. But you also need to be cautious! How often do you check your stove burners? They really can't clean themselves, that's why it is important to consider cleaning them so that you enjoy a full efficiency with your heater.
For effective cleaning, you need to remove the burner from the stoves, after which you use some good old fashioned elbow grease from an effective cleaning. Here the few tips that you will need to stick to for an efficient electric stove burner cleaning!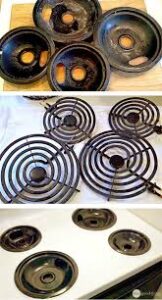 Requirements
Dishrag
A dish soap
Baking soda
Water
All these are the basic requirements that you will need before you initiate any cleaning. Now, let's focus on this step by step instructions that will deliver a very clean and effective stove burner!
Steps to follow
It's advisable to be patient until the stove burner is entirely cool. Always give it time to cool before you remove it from the stovetop. Most of the stove burners should gently slide with a gentle tug! Incas, you are not so sure about this, it will be wise to check the instructions manual for correct removal.
You will then need a cloth, a bit of mild dish soap and some water. You will then rinse ay residue from the burners coil so that it effectively delivers the best cleaning results. All parts of the electrical connections must never get wet. Be careful with this, so that you don't submerge any part of burners.
You will also need to check if there are any cooked-on residues of food. Most of the cooked-on food will not easily come off with soap and water mixture. When you find this case use a paste of baking soda and water. Apply them to the spot, and you give it about 20 minutes before you scrub and rinse the burner.
The last stage is to ensure that you dry it adequately. Ensure that it is scorched before you try to replace it.
Electric stove burners don't pose a significant challenge when cleaning! It is always important to note that electrical appliances will have issues. Ensure that it is scorched before you refix it. In case you find it challenging to refix it back after cleaning, you can refer to the steps in the manufacturer's instruction manual.
Summary
Be sure to go through every step while cleaning your stovetop burners! It will be beneficial in delivering the best cleanliness, and you won't have issues with a slow cooker as a result of splatters! It will be great for those who time there cooking. There will also be no cases of burnt-on food that will give a stench.
Cleaning an electric stove burner should be a day to day so that you don't allow time for the build-up of dirt that will results in issues afterward.
The New Woodburner's Handbook (Down-To-Earth Energy Book)



$12.95

@ Amazon.com
Product Details
| | |
| --- | --- |
| Brand: | Storey Publishing, LLC |
| Dimensions: | 6 X 0.44 X 9 Inches (Length X Width X Height) |
| Price: | $12.95 |
The New Woodburner's Handbook (Down-To-Earth Energy Book)
---
Reusable Gas Stove Burner Covers - 10 Pack Upgrade Double Thickness 0.2mm Non-Stick Stovetop Burner Liners Gas Range Protectors Size 10.6x 10.6 Inch Cuttable Dishwasher Safe Easy to Clean…



$10.58

@ Amazon.com (Save 24%)
Product Details
| | |
| --- | --- |
| Brand: | Forlivese |
| Model #: | 999 |
| Price: | $10.58 (Save 24%) |
Reusable Gas Stove Burner Covers - 10 Pack Upgrade Double Thickness 0.2mm Non-Stick Stovetop Burner Liners Gas Range Protectors Size 10.6x 10.6 Inch Cuttable Dishwasher Safe Easy to Clean…
---
Forsisco Stove Burner Covers, Upgraded Double Thickness Stove Covers for Gas Burners, Silver Nonstick Gas Stove Burner Liners, Reusable Kitchen Guardian Gas Stove Top Protector (8pcs)



$11.37 ($1.42 / pcs)

@ Amazon.com
Product Details
| | |
| --- | --- |
| Brand: | Forsisco |
| Model #: | For-ST-262 |
| Size: | 10.63x10.63in |
| Color: | Silver |
| Dimensions: | 10.6 X 10.6 X 0.01 Inches (Length X Width X Height) |
| Price: | $11.37 ($1.42 / pcs) |
Forsisco Stove Burner Covers, Upgraded Double Thickness Stove Covers for Gas Burners, Silver Nonstick Gas Stove Burner Liners, Reusable Kitchen Guardian Gas Stove Top Protector (8pcs)
---
Ovente 1700W Double Hot Plate Electric Countertop Cast Iron Burner, with 6 & 7 Inch Plates and 5 Level Temperature Control for Cooking Camping, Portable Easy Clean Stainless Steel Base, Black BGS102B



$31.46

@ Amazon.com
Product Details
| | |
| --- | --- |
| Brand: | OVENTE |
| Model #: | BGS102B |
| Warranty: | 1-Year Warranty on Domestic (USA) Repairs and Replacements on workmanship and materials from date of purchase from authorized reseller. International inquiries please contact manufacturer customer service directly for better assistance. |
| Size: | Double Burner |
| Color: | Black |
| Dimensions: | 18.4 X 9.7 X 3 Inches (Length X Width X Height) |
| Price: | $31.46 |
Ovente 1700W Double Hot Plate Electric Countertop Cast Iron Burner, with 6 & 7 Inch Plates and 5 Level Temperature Control for Cooking Camping, Portable Easy Clean Stainless Steel Base, Black BGS102B
---
Non-Stick Heavy Duty Oven Liners(3-Piece Set)-Thick,Heat Resistant Fiberglass Mat-Easy to Clean-Reduce Spills, Stuck Foods and Clean Up-Kitchen Friendly Cooking Accessory, by Grill Magic



$11.99

@ Amazon.com
Product Details
| | |
| --- | --- |
| Brand: | Grill Magic |
| Model #: | CECOMINOD050274 |
| Size: | 23x16.25 |
| Color: | Black |
| Dimensions: | 23 X 16.25 X 0.2 Inches (Length X Width X Height) |
| Price: | $11.99 |
Non-Stick Heavy Duty Oven Liners(3-Piece Set)-Thick,Heat Resistant Fiberglass Mat-Easy to Clean-Reduce Spills, Stuck Foods and Clean Up-Kitchen Friendly Cooking Accessory, by Grill Magic
---
Teabloom Stovetop & Microwave Safe Glass Teapot (40 OZ / 1.2 L) with Removable Loose Tea Glass Infuser – Includes 2 Blooming Teas – Premium Quality Teapot Gift Set (Holds 4-5 Cups)



$21.22

@ Amazon.com (Save 39%)
Product Details
| | |
| --- | --- |
| Brand: | Teabloom |
| Model #: | CEL-POT-US |
| Size: | 40 OZ / 1.2 L (4-5 CUPS) |
| Color: | Clear |
| Dimensions: | 9 X 5 X 6 Inches (Length X Width X Height) |
| Price: | $21.22 (Save 39%) |
Teabloom Stovetop & Microwave Safe Glass Teapot (40 OZ / 1.2 L) with Removable Loose Tea Glass Infuser – Includes 2 Blooming Teas – Premium Quality Teapot Gift Set (Holds 4-5 Cups)
---
Ovente 1700W Double Hot Plate Electric Countertop Coil Stove 5.7 & 6 Inch with Dual 5 Level Temperature Control & Stainless Steel Base, Easy Clean Portable Cooktop Burner for Cooking, Black BGC102B



$27.91

@ Amazon.com
Product Details
| | |
| --- | --- |
| Brand: | OVENTE |
| Model #: | BGC102B |
| Warranty: | 1-Year Warranty on Domestic (USA) Repairs and Replacements on workmanship and materials from date of purchase from authorized reseller. International inquiries please contact manufacturer customer service directly for better assistance. |
| Size: | 2 - Double |
| Color: | Black |
| Dimensions: | 18.4 X 9.7 X 3 Inches (Length X Width X Height) |
| Price: | $27.91 |
Ovente 1700W Double Hot Plate Electric Countertop Coil Stove 5.7 & 6 Inch with Dual 5 Level Temperature Control & Stainless Steel Base, Easy Clean Portable Cooktop Burner for Cooking, Black BGC102B
---
Silicone Stove Counter Gap Cover, Heat Resistant Kitchen Stove Counter Silicone Gap Filler Cover Seals Spills Between Counter Stovetop Oven Washer Dryer, 2 Pack (21 inch, Black)



$8.99

@ Amazon.com
Product Details
| | |
| --- | --- |
| Brand: | COOZYER |
| Model #: | AMEl-002-black |
| Color: | Black |
| Price: | $8.99 |
Silicone Stove Counter Gap Cover, Heat Resistant Kitchen Stove Counter Silicone Gap Filler Cover Seals Spills Between Counter Stovetop Oven Washer Dryer, 2 Pack (21 inch, Black)
---
CUKOR Electric Single Coil Burner, Portable Hot Plate 1100 Watt Powered, Kitchen Cooktop with Non-Slip Rubber Feet - Perfect for Candle Making



$25.99

@ Amazon.com
Product Details
| | |
| --- | --- |
| Brand: | CUKOR |
| Price: | $25.99 |
CUKOR Electric Single Coil Burner, Portable Hot Plate 1100 Watt Powered, Kitchen Cooktop with Non-Slip Rubber Feet - Perfect for Candle Making
---
IMUSA USA GAU-80305 Electric Single Burner 1100-Watts, Black



$11.99

@ Amazon.com (Save 25%)
Product Details
| | |
| --- | --- |
| Brand: | Imusa |
| Model #: | GAU-80305 |
| Warranty: | 90 day manufacturer warranty |
| Size: | Single |
| Color: | Black |
| Dimensions: | 3.54 X 9.84 X 9.05 Inches (Length X Width X Height) |
| Price: | $11.99 (Save 25%) |
IMUSA USA GAU-80305 Electric Single Burner 1100-Watts, Black
---