Reputedly, Toshiba is one of the popular microwave manufacturers. It not only focuses on quality, but also focuses on performance, style and versatility.
If you wish to buy an apartment size Toshiba microwave oven, please know more on Toshiba EM131A5C-BS. The 1.2 cubic feet microwave is suitable for apartments, office break rooms and anywhere else to prepare meals instantly and effortlessly.
The 1100-watt microwave oven comes at a reasonable price, and it is currently available on Amazon. Before you purchase, it is recommended to read reviews on Amazon posted by existing customers. You will find countless happy users of this Toshiba microwave oven.
Briefly, Toshiba Microwave Oven with 1100 watts cooking power is a powerful cooking machine. The stylish unit features 10 power levels, kitchen timer, digital display, sensor menus and many others.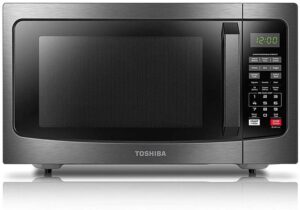 Features and Capabilities of Toshiba Microwave Oven
Dimensions – externally, the black color microwave measures 20.5 inches wide, 17.1 inches deep and 12.8 inches high. The cavity dimension are 13.07 inch wide, 15 inch deep and 9.5-inch high. The solid microwave has 12.4 inches turntable for heating foods evenly and easily.
Sensor function – the Toshiba microwave senses humidity of food and automatically assigns time and temperature for the best cooking result. The smart sensor has six auto menus so you don't have to guess time or temperature needed to cook popular foods.
Six pre-programmed menus – the 1.2 cubic feet microwave has six auto cook menus. These are frozen pizza, potato, sensor reheat, frozen entrée, rice and fresh/frozen vegetables.
Easy clean interior – the cavity is made of resilient material that withstands marks, scratches etc. Thus, you just need a wet cloth to clean it. Except a simple cleaning process, you don't have to do much for the maintenance.
Auto and Custom Defrost – the stylish unit is a time saving microwave because it has many useful features. For defrosting frozen foods, it allows two defrosting methods such as custom and automatic. If you want to go with the custom defrosting route, you need to choose from the custom defrost menu. Then, you need to enter weight of the food; the microwave will do the rest itself. In case, you need to defrost food weighing approx. 1 lb., you can go with the automatic defrosting.
Softening – when it comes to melting or softening your preferred foods, this Toshiba microwave oven is perfect. It can effortlessly melt chocolate, butter, cheese and others. For softening foods, the unit has seven pre-programmed menus that work based on weight or portion. Which means, it completely removes the guesswork.
FAQs on This 1.2 Cu. Ft. Microwave Oven with Eco Mode & Sound On/Off
Does the microwave talk to you?
No, it doesn't talk. However, it beeps when it finishes cooking.
When cooking, does the interior light switch on?
Yes, if anything is being cooked inside, the interior light automatically switches on. In addition, the light is on when the door is opened.
Where are the vents on this Toshiba microwave oven?
The vents are located at two places on this unit, right side of the back and left side of front. One is for air insertion and another is for air excretion.
Do you get a loud sound when you open or close the door?
According to some users, the door opens quietly and closes loudly. However, you can control it by shutting the door slowly.
Why is the light flickering? Is it normal?
If you are experiencing light flickering during the microwave operation then it is normal. However, if the light flickers all the times, it is problematic. Please try contacting the manufacturer.
Will the cooking process stop if door is pulled opened?
If the microwave is cooking something and the door is opened, it will stop cooking. However, it will restart the cooking process as soon as you close the door.
For better understanding, frequently asked questions have been answered above. The questions and answers are helpful to both existing users and future buyers of Toshiba 1100-Watt Microwave Oven. Thus, please look for an answer to your question regarding operation, placement, ease of use and anything else.
User experience On Toshiba Countertop Microwave Oven, 1100 Watts Cooking Power
One – this user has written in his review that it is a mature choice Toshiba microwave. This is a solid microwave, which is better than his previous one that was only used for reheating foods.
He says that this 1.2 cu. ft. microwave is smaller than his previous unit that works for the purpose. The user has given it a 4-star rating and recommended it to others for the optimum cooking performance.
Two – according to this user, he purchased the 1.2 cu. ft. Toshiba microwave. By observing performance, the customer has given a 5-star rating on Amazon.com. He says that the 1100-watt microwave is exactly what he was looking for.
Actually, he bought this countertop microwave when he shifted into a new house. The microwave fits perfectly, and he is very happy with the performance. Especially, he impressed with the features such as quick 30-second button, quick minute button and the door handle.
According to the customer, the Toshiba countertop microwave oven has small footprint, so it is perfect for a limited space kitchen.
Three – this customer has tagged this 1.2 cu. ft. microwave as an easy-to-use unit. He says that the stainless steel microwave features convenient control. Mostly, he presses just one button to start the microwave. In addition, he says that the microwave finish doesn't show a fingerprint mark.
The solid and powerful microwave delivers fast cooking performance. It is also a space saver, which has enough space inside to place the cooking stuffs.
However, he said that he found just one negative, which is related to the custom defrost function. He complained that the custom defrost function is too aggressive. This function starts cooking beef or chicken about halfway through the recommended time. Therefore, this function is not helpful.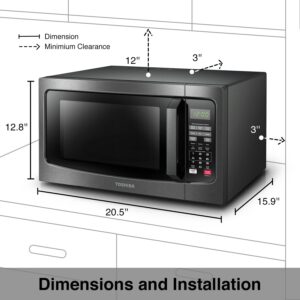 Pros
High cooking power
Countless happy users
Small footprints
Stainless steel exterior withstands fingerprint marks.
Stylish for most modern kitchens
Reasonable price
Comes from reputed and popular Toshiba manufacturer
Many advanced cooking functions for effortless and timesaving cooking.
The noise level is less than others are.
Anti-smudge front
Easy to clean interior
Convenient buttons
Stable for the countertop placement
Cons
Custom defrost function is too aggressive.
Toshiba EM131A5C-BS comes with countless benefits. You can see above mentioned pros and cons to gauge this unit. The stainless steel microwave has many happy users worldwide, and the advantages written above are taken from their reviews.
Finishing Words on Stainless Steel Toshiba Microwave Oven, Easy Clean Interior
In short, the Toshiba 1100 watts microwave is highly recommended to buy because it serves multiple purposes. The 1.2 cu. ft. unit can be used by not only a small family, but also a medium-size family. Thus, it is ideal for most kitchens, office break-rooms, shops, schools and others.
Moreover, the Toshiba microwave is reasonably priced on Amazon and it is a bestseller item too. In advanced features, you can find custom defrost and time defrost which are highly demanded today. For cleaning, the microwave is very easy to clean because it has strong interior that withstands scratches.
On Amazon, which is a popular shopping website, the microwave has already been sold to thousands of customers. You can observe it by reading reviews posted by the happy users.