Are you planning to make deviled eggs? It is a simple process that won't consume all your time. You will easily do this by first assembling all the ingredients. The critical elements for making up the deviled eggs include;
Six eggs
1/8 teaspoon salt
The freshly ground black pepper
One teaspoon of yellow mustard
One teaspoon of white vinegar
¼ cup of mayonnaise
All these ingredients are essential for the delicious deviled eggs! Leaving one of the components will result in a shortcoming. So ensure that you have them at your counter. In case you find some missing, we advise that you get them in the nearest grocery!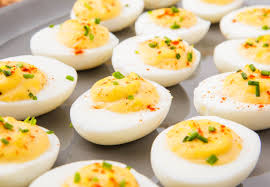 When you are sure that you got all the ingredients to it takes to cook the deviled eggs, you can follow the procedures below.
Start by placing eggs in a single layer in a saucepan. Yes, it's the first thing that you should do before covering it water ensure that the eggs are 1.5 inches above the eggs. Stat heat using hag temperature source until water begins to boil.
When water starts boiling, you will then cover the eggs and turn the heat low. Keep cooking for one minute. You will then remove it from heat and leave it covered for at least 14 minutes. You will have to rinse them under cold water for at least 1 minute.
Now start cracking the eggs shells as you carefully peel them under lukewarm running water. You can gently dry them using paper towels. Now start slicing the eggs in half longwise ensuring that you remove yolks placing them in a medium bowl. Place the whites on a serving platter.
Now start mashing the yolks into a fine crumble using a fork as you add mayonnaise, vinegar, mustard, salt and pepper. Then do a proper mixing.
The last stage is own to evenly disperse heaping teaspoons of the yolk mixture into the egg whites. Now that it's ready, you may only sprinkle with paprika and serve them!
Deviled eggs are a delicious meal that will be great for your breakfast. Follow the steps and find all the reasons to be happy with your breakfast!