Do you wish to make homemade Alfredo sauce? They are very delicious and will taste like a creamy, cheesy food. It's a rich flavorful sauce that warms the hearts of everyone. The Alfredo sauce ingredients are just very few. Everything is available, and you really won't be surprised by the ingredients that they use. It is made of heavy cream: butter and the grated parmesan cheese.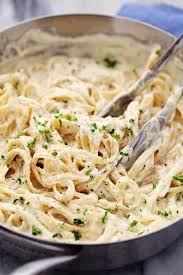 The steps involved in making the Alfredo sauce are also very straight forward, and you will only melt the butter and cream together. You will then remove them from heat and stir in the parmesan cheese until it is thick and creamy.
 Check through this ingredient necessary for making a delicious Alfredo sauce.
¼ cup butter

One clove garlic which has been crushed

A cup of heavy cream

1.5 cups of freshly crated parmesan cheese 

0.25 cup of chopped fresh parsley
Once you have all the ingredients. It's time now to prepare a delicious Alfredo sauce.
The first step is to place the butter in a medium saucepan. 

Start heating them over medium-low heat. Keep heating as you add other ingredients such as cream. You will add the cream and allow it to simmer for at least five minutes. 

Add garlic and cheese as you quickly whisk them. 

The heat should be constant here. You will then stir in parsley and serve.
 Alfredo sauce is a rich nutritional supplement that has over 439 calories. You will get all the diet requirements from fat, cholesterol sodium, carbohydrates and proteins. Checking through the recipe reviews, you will find out that it's a nice meal that will always accord you with all the essential nutrients!
 Summary
 Alfredo sauce is a simple yet very delicious recipe. Consider preparing one so that you can give it a taste. We like everything from the simplicity of making to the delightful taste and the nutritional constituents that it will supply to your body! It's the reason why Alfredo is now the best recipe that is currently trending!
[home]
Visited 1 times, 1 visit(s) today