Are you now trying to find a way through which you can cook spaghetti squash? It's simple. You need to stick to this piece that will give you all the insights on how you will prepare spaghetti squash, from cutting from a half lengthwise to the time where you will serve. It is a step by step guide that will deliver the best spaghetti squash for you.
Important to note is that, the spaghetti squash should not be roasted for entirely too long. Ensure that you cook it for the full 30 minutes. Remember, a squash does not need to be sure soft like a fork-tender.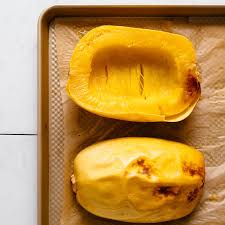 Check through this recipe that will guide you on how to cook the spaghetti squash. It takes 40 minutes from the preparation to serving. Preparation should take 5 minutes. Cooking should only be 35 minutes. Timing will depend on the heat that your oven will generate. The size of your spaghetti squash will also determine the time that it will take.
Now, which ingredients are necessary to cook spaghetti squash?
A spaghetti squash
An extra virgin olive oil
A freshly ground black pepper
Sea salt
Procedure
Like any other cooking, you will need to preheat your oven to higher temperatures of 400 degrees Fahrenheit.
While the oven is preheating, slice the spaghetti squash into smaller sizes. Scoop out the seeds. You will then need to drizzle some olive oil on the spaghetti squash, after which you sprinkle it with salt and pepper.
Once the slices are ready, you will need to place the spaghetti squash on a baking sheet. You will then use a fork to poke holes. Start roasting your spaghetti squash for 30 to 40 minutes until it's lightly brown on the outside. Ensure that I have a fork-tender appearance but still firm. The timing here will be determined by the size of the spaghetti squash you are cooking. Some squash also will need shorter ice while others will r take longer time.
Your spaghetti squash is ready for consumption. Remove from the oven and flip the squash so that it cuts side up. You will need to be patient until it is refreshing to touch. You will then use a fork to scrape and fluff the strands from the sides of the squash. It's now ready.
Summary
The spaghetti squash will have different cooking times, depending on the note choice of the squash that you are using. The size will also determine the time. Always stick to the right steps ad follow all steps so that you get a delicious spaghetti squash. It's a simple procedure that won't take more of your time. Try it and enjoy the sweet-tasting spaghetti squash.
How to Cook Spaghetti Squash: Discover The Different Methods of Cooking Spaghetti Squash Even If You Were a Complete Novice



$2.99

@ Amazon.com
Product Details
How to Cook Spaghetti Squash: Discover The Different Methods of Cooking Spaghetti Squash Even If You Were a Complete Novice
---
How to Cook Spaghetti Squash



$0.99

@ Amazon.com
Product Details
How to Cook Spaghetti Squash
---
Squash Tool



$8.99

@ Amazon.com (Save 31%)
Product Details
| | |
| --- | --- |
| Brand: | Tovolo |
| Model #: | 81-30275 |
| Size: | L x 8in |
| Color: | Sun Ray Yellow |
| Dimensions: | 11.5 X 4 X 0.5 Inches (Length X Width X Height) |
| Price: | $8.99 (Save 31%) |
Squash Tool
---
OXO Good Grips 3-in-1 Avocado Slicer - Green



$11.95

@ Amazon.com
Product Details
| | |
| --- | --- |
| Brand: | OXO |
| Model #: | 1252180 |
| Warranty: | Satisfaction guarantee: if for any reason you are not satisfied with this product, return it for repair, replacement or refund |
| Size: | Avocado Masher |
| Color: | Green/Black |
| Dimensions: | 0.75 X 2.25 X 7.75 Inches (Length X Width X Height) |
| Price: | $11.95 |
OXO Good Grips 3-in-1 Avocado Slicer - Green
---
Messermeister Pro-Torch Plus Culinary Scoop & Scraper - Multi-Purpose Tool to Remove Seeds, Pulp & More - AISI420 Stainless Steel & Oversized Handle



$14.95

@ Amazon.com
Product Details
| | |
| --- | --- |
| Brand: | Messermeister |
| Model #: | 2002-10B |
| Color: | Black |
| Dimensions: | 7.2 X 3.9 X 0.39 Inches (Length X Width X Height) |
| Price: | $14.95 |
Messermeister Pro-Torch Plus Culinary Scoop & Scraper - Multi-Purpose Tool to Remove Seeds, Pulp & More - AISI420 Stainless Steel & Oversized Handle
---
Fullstar Vegetable Spiralizer Vegetable Slicer - 4 in 1 Zucchini Spaghetti Maker Zoodle Maker Veggie Spiralizer Adjustable Handheld Spiralizer Zucchini Noodle Maker Zucchini Spiralizer with Container



$14.98

@ Amazon.com (Save 29%)
Product Details
| | |
| --- | --- |
| Brand: | fullstar |
| Model #: | Vegetable Spiralizer |
| Size: | 4 in 1 |
| Color: | Black |
| Dimensions: | 5.6 X 3.9 X 3.8 Inches (Length X Width X Height) |
| Price: | $14.98 (Save 29%) |
Fullstar Vegetable Spiralizer Vegetable Slicer - 4 in 1 Zucchini Spaghetti Maker Zoodle Maker Veggie Spiralizer Adjustable Handheld Spiralizer Zucchini Noodle Maker Zucchini Spiralizer with Container
---
How to Cook Vegetables



@ Amazon.com
Product Details
How to Cook Vegetables
---
Spaghetti Squash Cookbook



$6.99

@ Amazon.com
Product Details
| | |
| --- | --- |
| Brand: | |
| Dimensions: | 6 X 0.25 X 9 Inches (Length X Width X Height) |
| Price: | $6.99 |
Spaghetti Squash Cookbook
---
SOLELY Organic Dried Spaghetti Squash, 1.76 oz (Pack of 6) | One Ingredient: Spaghetti Squash | Naturally Gluten Free | Non-GMO | Low Carb and Keto-Friendly | Quick and Easy to Prepare



$34.45 ($5.74 / Count)

@ Amazon.com
Product Details
| | |
| --- | --- |
| Brand: | SOLELY |
| Size: | 1.76 Ounce (Pack of 6) |
| Price: | $34.45 ($5.74 / Count) |
SOLELY Organic Dried Spaghetti Squash, 1.76 oz (Pack of 6) | One Ingredient: Spaghetti Squash | Naturally Gluten Free | Non-GMO | Low Carb and Keto-Friendly | Quick and Easy to Prepare
---
Brieftons 5-Blade Vegetable Spiralizer: Strongest-Heaviest Spiral Slicer, Best Veggie Pasta Spaghetti Maker for Low Carb/Paleo/Gluten-Free/Vegan Meals, With Extra Blade Caddy, 4 Recipe Ebooks



$24.95

@ Amazon.com (Save 29%)
Product Details
| | |
| --- | --- |
| Brand: | Brieftons |
| Model #: | 712038187669 |
| Color: | White ( 5 Blades ) |
| Dimensions: | 10.6 X 4.9 X 7.9 Inches (Length X Width X Height) |
| Price: | $24.95 (Save 29%) |
Brieftons 5-Blade Vegetable Spiralizer: Strongest-Heaviest Spiral Slicer, Best Veggie Pasta Spaghetti Maker for Low Carb/Paleo/Gluten-Free/Vegan Meals, With Extra Blade Caddy, 4 Recipe Ebooks
---