Personally, I feel that a microwave owner should buy this splatter cover. It is very useful for the microwave users. In this microwave splatter cover review, you will know the product in details. I will try to cover as much information as possible.
The main work of this splatter cover is to keep the splatter away from the microwave. Also, it helps in keeping the steam stable for even cooking and reheating. One does not have to worry for washing it because it can easily be washed in a dishwasher.
Features of Anti-Splatter Plastic Cover
Size – according to the product description, it measures 11.8-inch by 11.8-inch by 3.34-inch. The anti-splatter cover fits perfectly in most dishes, bowls and plates.
Safe PP material – this cover is made of PP material, which is a type of plastic. It is very safe to use with food. The PP material cover does not release any harmful substances when it is in use. Also, it is environment friendly.
It keeps a microwave clean – since it is capable to keep the splatter off the microwave so the microwave interior will be clean all the times. It also helps in heating foods without the use of oil and sauce spills.
Perfect size – it is made in a size that accepts most dishes, plates, bowls and other kitchen helpers.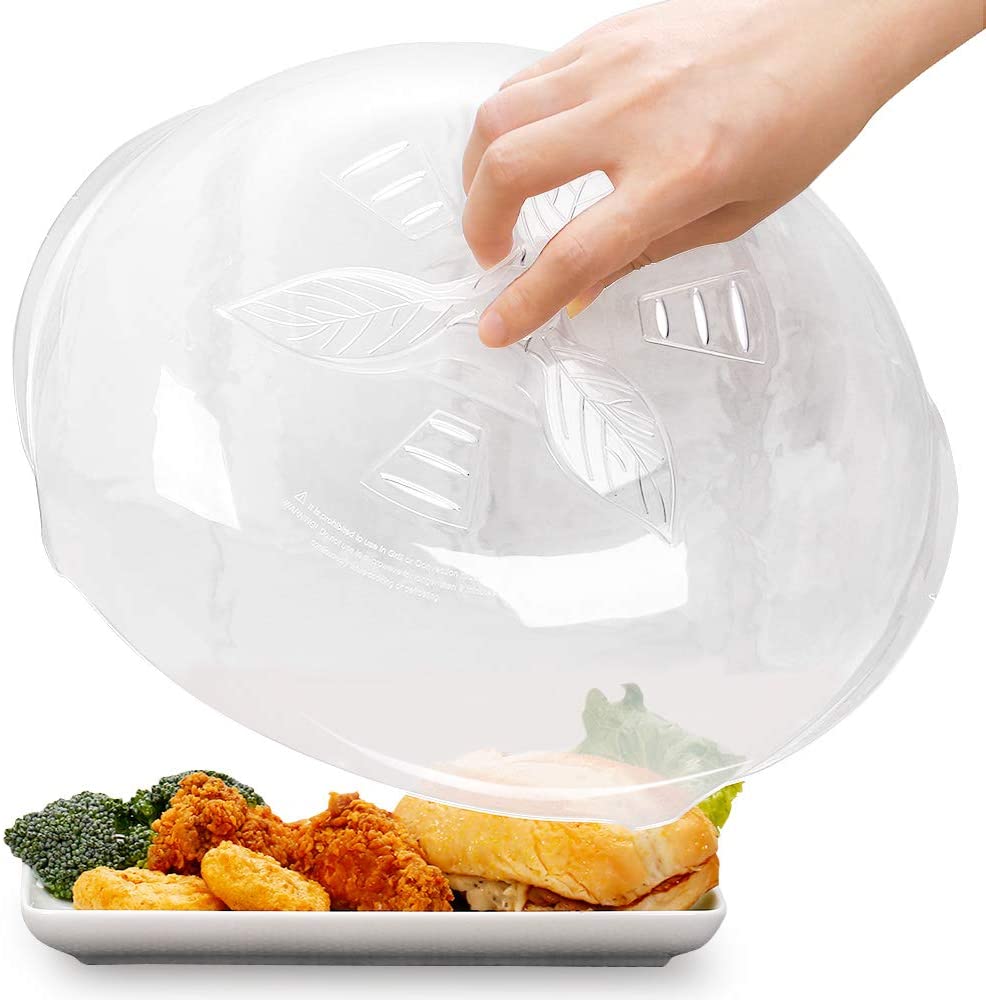 Precautions
Long use – it is not recommended to use this splatter cover for more than 10 minutes continuously at the time of cooking or defrosting.
Malfunction occurrence – in case, you notice any unusual malfunction in your microwave, please stop the electricity supply immediately to the microwave. And, please discontinue further use of this splatter cover.
Do not use – this anti-splatter cover is not made for the use in a conventional oven, toaster oven, convection microwave, on a hot plate and other heating elements.
Well, precaution is must. Please follow the precaution list mentioned above. If you strictly follow them, you will not get any issues from this splatter cover. And, you will be able to keep safe not only the microwave, but also yourself.
Microwave Splatter Cover Review & FAQs
What is the useable height from bottom to top?
The height is approx. 4 inches.
Is it a dishwasher safe product?
Yes. According to the product description, you can wash it in a dishwasher.
Is the 11.8-inch outside or inside diameter?
It is the inside measurement. According to many users, it is very large; they did not have any problems.
Is this item recyclable?
I cannot say because the product does not have a recyclable symbol.
Many Users Say That It Is a Must-Have Cover for Every Kitchen
According to many users, this microwave splatter cover is very useful. It is a great way to keep the microwave clear, clean and un-messy all the times. Also, it keeps the stream contained, so anything is cooked evenly.
Those people who reheat foods in a microwave, this microwave splatter cover is the must-have tool. In fact, many users purchase it multiple times because it has various uses.
One cannot get any hanging problems; it does not get hang up on sides. So, the microwave turntable rotates freely. Also, one cannot get washing related problems because it washes well. And, it has a great fitting capability because it fits most plates, dishes etc.
Thousands of its users are happy. You can see it on Amazon. There are many positive reviews, ratings on this wonderful kitchen helper.
Pros
It is perfect to control the splatter in a microwave.
The product is made of PP plastic material, which is a food-grade material for the safety.
Low price
Too many happy customers on Amazon
It fits most bowls, plates and dishes very well.
One cannot get any issues related to washing it.
It has multiple uses; you not only use it in a microwave, but also use it to cover foods when you are outside, in office or somewhere else.
Cons
It works well but you have to follow the precaution steps very carefully.
The product is not made for toaster, convection ovens.
Every product has both pros and cons. So, in this microwave splatter cover review, I have tried to list pros and cons too. Please see the pros and cons that are mentioned above. This product has too many pros and a few cons too. The pros are directly related to the overall performance. On the other hand, the cons do not have much weight for the overall performance.
Conclusion – Microwave Splatter Cover Review
In short, the microwave splatter cover is a useful and must-have product for any kitchens. It is perfect to deal with splatters in a microwave oven. Since, it is a useful product and it comes at a low price so one should buy it.
Amazingly, it has received tremendous reviews and ratings on Amazon and other market places. I will definitely recommend buying this product because it is safe to use, it is easy to wash and it helps clean the microwave interior.