Salmon will be a fancy dish that won't take all your time. It really won't be so hard cooking it. All you need is a salmon fillet. This article will deliberate on simple steps on how you can prepare the easiest yet very delicious salmon. You will note that it will only take the rubbing of the fillets with little oil. You will then have to sprinkle them with salt and pepper before placing them in an oven!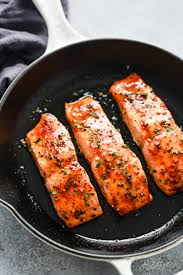 Stick to this piece that will educate you on all the steps on how you will cook a salmon in an oven. First, you will need to buy the best salmon that you will afford.
Ingredients
Skin-on salmon fillets
Salt
Pepper
Olive oil
The lemon wedges
Once you have assembled all the ingredients, you will then need a roasting pan or even a baking sheet for cooking the salmon.
Procedure
Before you start cooking the salmon, ensure that you preheat the oven to a temperature of 425 degrees Fahrenheit. Place the rack in the middle. It's the initial stage before you line your roasting pan with foil.
Use a paper towel to dry your salmon. Pat it until it's dry.
When the salmon is dry, bring your ingredients; oil, salt, and pepper and rub them on your salmon. You will drizzle the oil over the salmon and be generous enough so that it covers all parts. Sprinkle some salt and pepper on it.
It's now time to place your salmon on a roasting pan. Before you transfer it into a heated oven, ensure that it is skin-side down.
Proceed with roasting for at least 4 to 6 minutes for every half-inch thick salmon. The thickest part of the salmon will take more time than light parts. Always consider 6 minutes for each salmon so that it cooks effectively. Take tie for every salmon fillet as you maintain the temperatures and the cook times for each of them.
To check if the salmon is ready, you can use a fork. It will easily flake, then it implies that it is prepared. Some will prefer using an instant-read thermometer. The essential factor here is readiness. Ensure that your salmon cooks appropriately. For those using an instant-read thermometer, measure the thickest part, and ensure that the internal temperature is beyond 145 degrees Fahrenheit.
Once your salmon is ready, you will want to serve it when it is hot! Enjoy this delicious salmon, and never worry about leftovers! You can still refrigerate it for five days with no worries about it going bad.
Summary
 Cooking salmon is a simple process. It needs very few ingredients, and it takes the shortest time to serve it. If you intend to enjoy it to the fullest, then it won't be wise neglecting every step lest you end up with a half-baked salmon! Stick to the rules, and you will always find reasons to smile about your salmon cooking techniques.
[home]
Visited 1 times, 1 visit(s) today